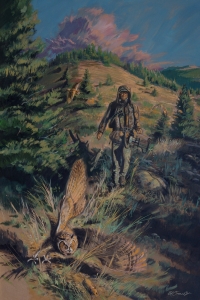 "DOGGING FOR LONG EARS"
A hunter unwittingly scares up mice for a small flock of Long Eared Owls in the Rocky Mountain west.
"DOGGING FOR LONG EARS"
30 x 20"

36 x 24"

36 x 24"
Category:
Originals
Media:
Giclee Canvas
Edition Size:
25
Framed:
Framed
Availability:
In stock
Price:
US$ 395
A few years ago while walking down from timberline in northern Colorado owls suddenly swooped around my feet. It was late in the day and I was elk hunting my way back to camp. Amased I later did some research and found they were Long Eared Owls which sometimes roost in flocks.They are about the size of a Raven. Great fun! See if you can find the two mice.
Category:
Originals
Media:
Giclee Canvas
Edition Size:
25
Framed:
Framed
Availability:
In stock
Price:
US$ 495
Category:
Originals
Media:
Acrylic
Edition Size:
25
Framed:
Framed
Availability:
Contact Artist