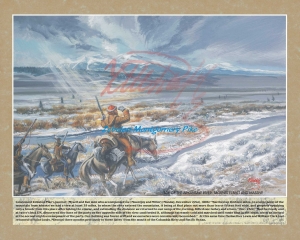 "TOP OF THE ARKANSAW"
Zebulon Montgomery Pike and two men attain their furthest north and 'highest' point on their expedition in Colorado's central mountains; December 22, 1806.
"TOP OF THE ARKANSAW"
16 x 20"

24 x 36"

24 x 36"
Category:
Originals
Media:
Acrylic
Framed:
None
Availability:
In stock
Price:
US$ 34.95
Part of the Pike National Historic Trail Assoc. series. Available in paper posters, canvas prints and original.
Category:
Originals
Media:
Giclee Canvas
Edition Size:
100
Framed:
Framed
Availability:
In stock
Price:
US$ 595
Category:
Originals
Media:
Acrylic
Edition Size:
100
Framed:
Framed
Availability:
Contact Artist
Price:
US$ 5995