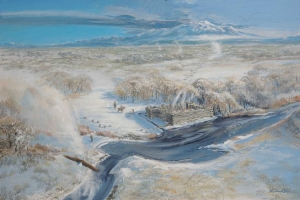 "Greeting From New Spain"
In mid January 1807 Zebulon Pike along with 15 of his men marched on foot from what is now Canon City, Colorado up Grape Creek through the Wet Mountain Valley. In February they built a small stockade on the Conejos River.
"Greeting From New Spain"
Category:
Originals
Media:
Acrylic
Edition Size:
100
Framed:
Framed
Availability:
Contact Artist
Price:
US$ 5995
During the month of February 1807 on the Conejos River just east of what is now Sanford, Colorado in the San Luis Valley while building and reinforcing their stockade Pike negotiated with Spanish forces. Controversy accompanies the events here but Pike and his men were escorted to Chihuahua, Mexico and his journals were confiscated at that time.
Category:
Originals
Media:
Giclee Canvas
Edition Size:
100
Framed:
Framed
Availability:
In stock
Price:
US$ 455