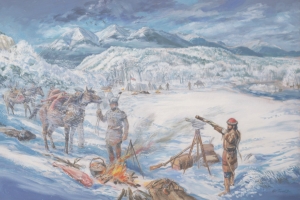 "PIKE'S CHRISTMAS 1806"
It was Christmas Day 1806. Just NW of what is now Salida, Colorado. Lieutenant Zebulon Montgomery Pike had halted his company of about 21 men as they had been without food for 3 days. Wet, frozen, miserable ...
more
...
"PIKE'S CHRISTMAS 1806"
24 x 36"

24 x 36"

20 x 30"
Category:
Originals
Media:
Oils
Edition Size:
500
Framed:
Framed
Availability:
Contact Artist
Price:
US$ 5995
The first in a series of paintings celebrating the life of one of America's earliest heros. The man after whom America's Mountain; Pike's Peak is named.
Other sizes are available including a 14x18" poster at $24.95
Category:
Originals
Media:
Giclee Canvas
Edition Size:
500
Framed:
Framed
Availability:
In stock
Price:
US$ 595
Category:
Originals
Media:
Giclee Canvas
Edition Size:
500
Framed:
Framed
Availability:
In stock
Price:
US$ 455